GIS Resources
This portal provides access to Currently Supported data downloads and Internet Mapping Services. If you plan to use bookmarks, bookmark this page rather than the individual site pages as those will likely migrate to different servers. The portal page will be the most reliable form of access to the online interactive mapping sites.
ArcGIS Online is a cloud-based, collaborative content management system for maps, apps, data, and other geographic information. The software is ready to use with nothing to install or setup. It's software delivered as a service, giving you and your team intuitive tools to create and publish maps and apps on demand. You stay in control of your data, and empower everyone with easy-to-use maps on the web. Effortlessly share your maps on blogs, web pages, and web applications, or to Facebook and Twitter.
Create a map that can be viewed in a browser, desktop or mobile device. Share it on a blog, via email, or embed it in a website. Here are some prototypes that are currently being developed for the New Mexico Geographic Alliance.
3 Panel Web Mapping Application (NMGA prototype)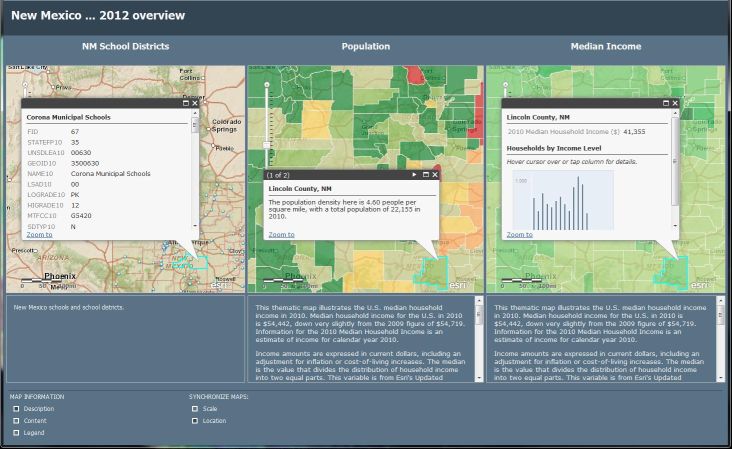 ---
GIS Training Links:
---
Local GIS Data Resource:
The New Mexico Resource Geographic Information System (RGIS) is a cooperative program between the University of New Mexico (UNM) and the State of New Mexico Information Technology Commission (ITC). RGIS is dedicated to advancing applications of geographic information system technology within New Mexico's State agencies, local government and private industry.
Paso Del Norte Map for Public Access (PdN Mapa) is a coalition of agencies that are responding to the need for a state of the art, trans-boundary geographical information system (GIS) in the tri-state, binational region of far-west Texas, southern New Mexico, and northern Chihuahua, Mexico.
The GIS Division of the Community & Economic Development department develops and maintains Doña Ana County's Geographic Information System (GIS). The Division maintains over one hundred layers of information (databases), develops department-specific applications, produces maps, and provides training and technical support to other County departments. All of the Division's digital data are available to the public for nominal reprographic fees.
The City of Las Cruces GIS group uses the GIS technology in order to map how the city should respond to different events from fires to flooding. The group also focuses on creating political boundary lines, emergency routes, utilities, and much more. The data is available through the Information Systems and Services Department.
USGS Seamless is a Data Warehouse containing various types of data available for download such as orthoimagery, elevation, land cover, and bulk data. The National Map Viewer is an extension of Seamless and will be the main site to download data by the end of July 2012.

The U.S. Census Bureau TIGER/Line® Shapefiles are created by the Department of Commerce. The shapefiles are based off of the 2010 Census Data and can be found at the state and county levels for geographic area or geographic features. Data is also available for available from various years.

This page provides reference to all US govrnment maps and the collection stored within the Library of Congress.

This website provides tabular and geographically correlated demorgraphic data from the census taken by the US government in 2010.

Put together by a Remote Sensing and GIS PhD Student, this page includes a collection of data resources that are free to use. The data available include Global and Continental datasets divided into Physical and Human Geography and Individual Countries.
---
:
The National Council for Geographic Education is a non-profit organization, chartered in 1915 to enhance the status and quality of geography teaching and learning.
New Mexico Geographic Information Council, Inc. (NMGIC), a non-profit dedicated to things geospatial: education, information sharing, technology advancement, and collaboration in the state of New Mexico.
SWUG is a group of geospatial technology users within New Mexico, Arizona, Utah, Colorado, and Wyoming that gather every year to discuss new developments in the programs and speaks over experiences with the programs, focusing on the ESRI Arc program.
The NMSU Geography Department would like to hear from you. We welcome your
comments