News
---
NMSU geographers map Mesilla Valley Bosque State Park
By Audry Olmsted, 575-921-4056, aolmsted@nmsu.edu
Posted: 2013-03-04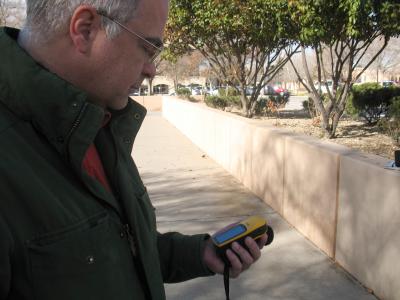 A kind deed does not go unnoticed. When Mesilla Valley Bosque State Park offered up its facility so New Mexico State University could host a dinner event there last fall, geographers offered to map the boundary of the park as a "thank you" in return. The College of Arts & Sciences held part of the annual Southwest Division of the Association of American Geographers at the state park in October 2012. "The state park does not really have any mapping capabilities," said Randy Carr, coordinator for the Spatial Applications and Research Center (SpARC). "We offered to help them with some mapping and GIS support of the park so they can better manage and inventory their resources because they let us use their facility." Though most work done for mapping is conducted in the SpARC lab, Carr had a geography technician go to the park to walk the trails to get boundary details not available to them through aerial photography. Geographers also met with Jan Kirwan, park superintendent, to find out what specifically they wanted out of the project, which included an overall map of the park, archaeological sites that have not been excavated, and boundaries for properties adjacent to the park. "This is an amazing management tool for us," Kirwan said. "Because of this effort, we can easily identify what projects we are working on, such as trail work or restoration, where we are working on them, and where our projects might overlap. This is a nice tool for our toolbox to help us manage and document what we are doing at the park and so we can move forward with those projects. The state park is currently about 340 acres along the west bank of the Rio Grande. The goals of the park include restoring the wildlife and native plant communities and protecting the natural environment and cultural resources; attracting the public to participate in outdoor recreation; and educating children and adults about the wildlife and native plants along the Rio Grande. Kirwan said this mapping not only benefits state park officials but they also can use the data they gather for educational and presentation purposes for the public to show people what the park has to offer. Along with a large printout of the map showing public information that will be displayed at the park, NMSU will also provide digital maps and a geographic database that will allow park officials to update the information as they conduct work around the area, and also create custom maps depending on their needs, such as maps of nature trails to hand out to the public. NMSU's services also include training and support of the software required to fully utilize the data gathered. "Most of what SpARC does is contract work," said Carr, "but we do seek out community outreach opportunities and that is how this project came to happen." "Not only do we want this to be an ongoing project with the Mesilla Valley Bosque State Park, but we also want to include them in a larger project to coordinate all the GIS users in the Southern New Mexico region so we can more easily share data and information," Carr said.
---
Your View: Letters to the editor (March 4)
By MICHAEL N. DeMERS, Department of Geography
Posted: 03/04/2013 01:00:00 AM MST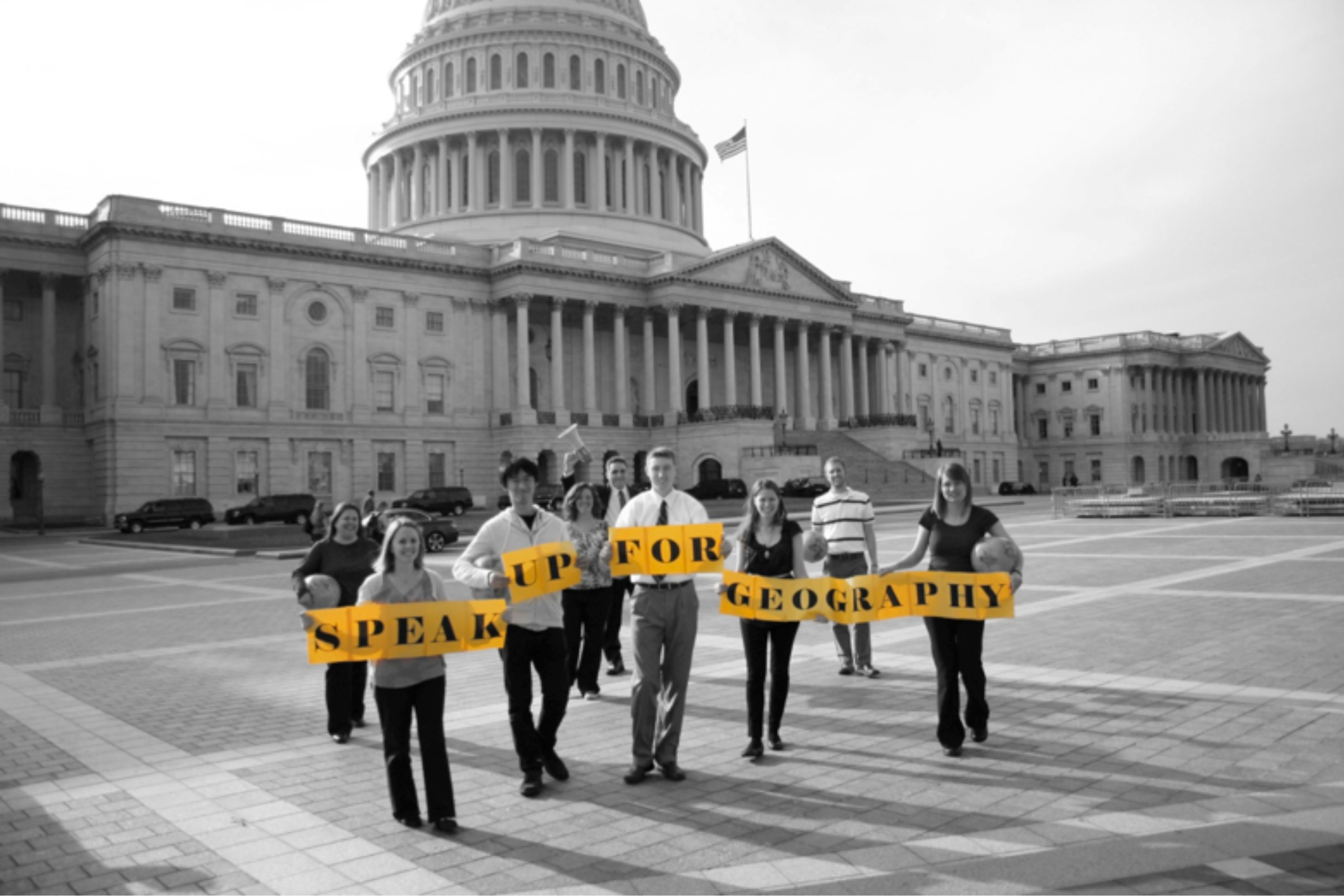 Having had a tense political conversation recently with a brother who lives in Oklahoma about his loyalty to FOX News and to his newspaper, the Daily Oklahoman, led me to consider how the news sources we choose affects our political and societal views. I would like to address younger citizens about their choices. Today younger, and older people with computer skills, may access a variety of news sources. They may subscribe online to newspapers across the country or view a news story on their computer or hand-held device. My challenge: whether you listen to FOX News or CNN or MSNBC, now and then click on the news source you never watch. Get out of your comfort zone and discover what other people watch. In my opinion, my brother is viewing a network that is known not only for its conservative bias, but also for its presentation of the news. When I watch FOX News too often I see misinformation, repetition of false conspiracy theories and a great lack of reporting all the news. Their highly paid opinionators continually blame the president for the economy while omitting the facts about the two unbudgeted and costly wars President G.W. Bush started. FOX News' parent, News Corp. in London, is at present involved in 100 lawsuits about their employees' unlawful phone-hacking activities and have previously settled about 200 similar lawsuits.
My brother makes statements against the president, environmentalists, gays; the list goes on, yet his brother two years older is tolerant and broad-minded. My older brother does not often watch FOX News. One brother seems angry at the world; the other believes he has a good life. Which one is the FOX News fan? RONALD and VIOLET CAUTHON Las Cruces, Pass TGIF Act I am the coordinator of the New Mexico Geographic Alliance, a longtime professor of geography at New Mexico State University, and a resident of Las Cruces. On Feb. 28, I will join over 100 educators from around the country in Washington, D.C., with a single mission: urging Congress to pass the Teaching Geography is Fundamental Act (TGIF) to ensure that America's children are equipped to work and live in an increasingly globalized world. Many Americans do not realize that despite geography being named a "core academic subject" in federal legislation, it is the only one of those core subjects that never received dedicated federal funding. Geography education is much more than kids knowing that the capital of Djibouti is Djibouti. There is an enormous demand in both the public and private sectors for individuals with the ability to interpret and analyze geographic information. A large proportion of our national security relies on geospatial tools and people trained to use them. There are approximately 5.3 million people in the United States alone whose jobs depend on geospatial technology and 70,000 new jobs in geospatial technology each year, but we are not training Americans to fill them. That is a massive impediment to our global competitiveness and our national defense. TGIF would establish grant programs to expand geographic literacy among American students and improve K-12 teacher preparation. As I fight for better geography education in New Mexico, I urge all Americans to visit www.SpeakUpForGeography.org and use the online tool to contact their members of Congress asking them to support TGIF and support America's future.
---
Eye on Research: NMSU geographers map trees for sustainability
By Audry Olmsted, aolmsted@nmsu.edu
Posted: 02/24/2013 03:13:42 PM MST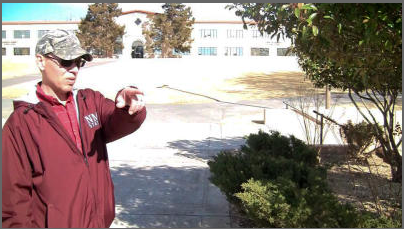 How compatible are the trees on the New Mexico State University Las Cruces campus to the desert Southwest? Researchers in the College of Arts & Sciences' Department of Geography are using a state-of-the-art program software to answer just that question. The Spatial Applications and Research Center has been commissioned by the Office of Facilities and Services to map every tree on campus in an effort to collect their various characteristics and whether they are sustainable for the region. To accomplish this task, the department has turned to the i-Tree computer program. "This program allows us to identify each tree species on campus," said Buddy Clark, a GPS field and GIS technician for the department's SpARC lab. "By looking at the tree species we have on campus, we can look at what takes in the most water and which trees do well here. We can plant those trees that thrive in and can survive in this desert environment, and eventually phase out the trees that do not." Initially started in May 2011, Clark is now working on a more in-depth version of the map. Out of 13 zones, he has finished mapping one zone and is working on another. Through his process of mapping, Clark identifies each tree by their species and also looks at the diameter of the trunk, the condition of the leaves and the wood, and also observes each tree's location in relation to buildings, medians and other spaces. The computer program collects and stores all the data gathered. More than 65 species of trees and more than 6,000 trees are on campus - a number that changes almost daily as trees are planted or removed — and Clark has tracked each one. "The i-Tree program gives us a good management tool," he said. "Everything that a person needs to know about a specific tree on campus is available through the data collected." This program also benefits students on campus. Carol Campbell, an associate professor of geography, uses the campus as her living laboratory and said her interest in the program is to help facilitate ecological balance on campus. She is working with Clark to apply the program to NMSU and has also used it to produce lab activities for her students in biogeography. The students utilize the program in the field to learn about the natural environment, as well as how to bring that information into GIS education to see how that data is analyzed and combined for such characteristics as carbon sequestration and oxygen production. "I think this is a fantastic program," she said. "This is a wonderful start for Las Cruces and NMSU. Contributors such as Davey Tree and the Arbor Day Society have all supported this program because trees are one of those resources that are really critical for clean air, oxygen, habitat and provisions for all different kinds of organisms. I wouldn't like a place without trees." Clark said the Office of Facilities and Services can use the data gathered when deciding on any campus upgrades or remodeling, and it can also be used for general campus aesthetics. "Eye on Research" is a weekly feature provided by New Mexico State University. This week's feature was written by Audry Olmsted of University Communications.
---
---
NMSU grant will change the way geography is taught in New Mexico schools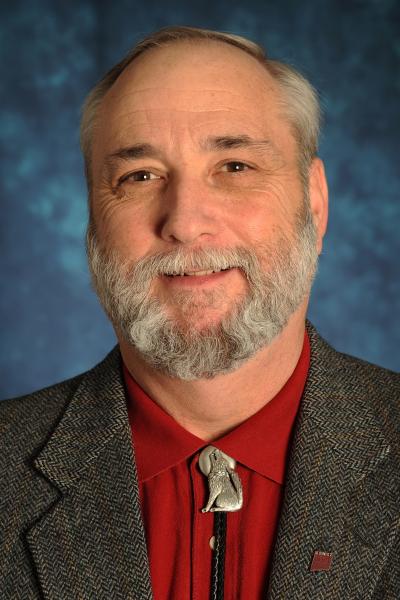 With a little seed money, a New Mexico State University geographer plans to build a statewide alliance that will grow to change the way teachers educate and children learn in elementary and secondary schools across New Mexico. The National Geographic Society's National Geographic Education Foundation has awarded NMSU $32,000 to help educate children from kindergarten through 12th grade about geography. The New Mexico Geographic Alliance will become part of a network of fifty such alliances whose collective mission is to improve geographic education throughout the United States.
Americans' knowledge of geography is considerably below that of many other nations. Lee Schwartz, who holds the title of "The Geographer" for the U.S. Department of State, considers this geographic ignorance a major national security risk. Despite its importance, geography is seldom taught as a standalone subject in most elementary and secondary schools across the nation.

Geography is not simply the memorization of geographic places and their capitals, although you could think of that as the vocabulary of the discipline. Instead, geography is a very complex integration of concepts and ideas about the earth that enable geographers to understand the patterns of population, food, economic conditions, climate, natural resources, energy resources, military and other risks, and many more.

Today's Geographic Information Systems are a direct outgrowth of 2,500 years of geographic analysis. The GIS enables both geographers and non-geographers to compile and analyze all of this geographic knowledge for decision-making. Despite their complexity the ideas of GIS, when adapted, can be integrated into elementary and secondary education.

"Research has shown that one of the most powerful tools to teach critical thinking is Geographic Information Systems," said Michael DeMers, a professor in the College of Arts & Sciences' Department of Geography. "With this endeavor, we are going to use the concepts and ideas of GIS to create problem-based learning experiences that students can relate to. Because they are engaged, they will learn more than they would normally."

DeMers said he wants to bring more technology and online education and activities into the classroom that will be fun for the students. They will be designed to foster critical thinking and creativity, and to get children to start thinking about the world around them from the angle of spatial awareness.

"Our idea is to create something so exciting, so compelling, that every teacher in the state is going to want to be a part of this because it will make their classes so much more fun," he said.

In its infant stage, DeMers, along with his NMSU team of Randy Carr, a GIS coordinator with the Department of Geography's Spatial Applications and Research Center Lab; and Julia Parra, an assistant professor in the College of Extended Learning and the College of Education; are working to reach out to educators and the public statewide to gain support for this effort, and to gather ideas and feedback. DeMers has already received an offer of assistance from Esri, a leader in GIS software, which has developed established GIS curricula for grade school children that can be incorporated into NMSU's plan.

In three years, DeMers said his goal is to start bringing educators in New Mexico to NMSU to learn how to teach GIS and online education as well as how to teach geography using such devices such as iPads. He wants educators to acquire both geography skills as well as technological skills related to teaching using educational computer games and activities they can then incorporate into their classrooms while still satisfying educational standards. Teachers who have gone through the training would return the following year to assist in educating the next generation of educators.

Programs created through the foundation are designed to become self sufficient over time. In recent years GIS has been classified as one of the Science, Technology, Engineering and Mathematics (STEM) programs by the National Science Foundation and other agencies opening a new suite of possibilities for the Department of Geography to pursue funding opportunities to further this project.

This acknowledgement of GIS as a STEM discipline also means, "We are going high tech. We want to be the one alliance that everybody else looks at and says, 'Wow! Look at what they're doing. They are doing GIS for kindergarteners.'" DeMers said.

This does not mean teachers are doing away with brick and mortar, but DeMers said he believes the future of education is online and that if students are more positively engaged and challenged in school, they will be more interested in participating and less likely to drop out before graduation. The return on this investment is lifelong geographic education, DeMers said, that will continue to grow and expand over time.

"Years from now, I want to be sitting here in my office and have a student come in – 17 or 18 years old, and a freshman in college – who says, 'Dr. DeMers, I see you have 12 courses in GIS. Can I test out of those? I had that in fifth grade.' That is what I want," DeMers said. " I would say, 'Thank you. I'm done. I can retire now.'"

For more information, contact DeMers at 575-496-5231 or email demers01@gmail.com.
Archive



SpARC awarded a large GPS field data collection and GIS analysis project by the Doña Ana Mutual Domestic Water Consumers Association, May 2011

The SpARC takes on DOJ Southwest Rural Family Violence Project, April 2008

A Binational Perspective on Water, Research & Resources, Spring 2007

Researchers Tap Secrets of Water Quality, Availability, and Efficiency

Border Technology Deployment Center Quick News, Volume 2 Number 1, January 2004
The NMSU Geography Department would like to hear from you. We welcome your comments