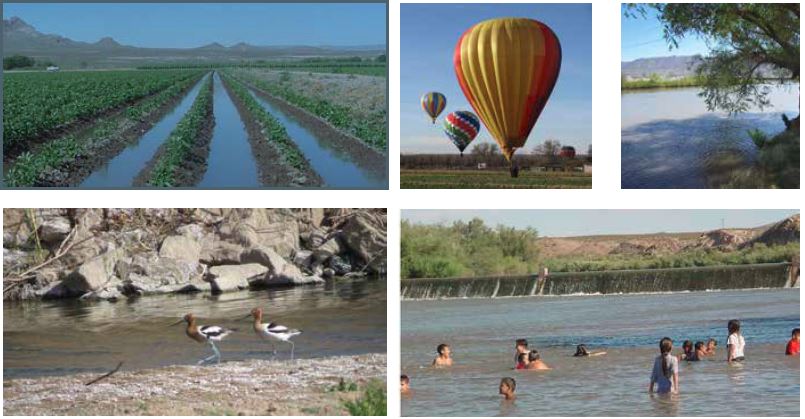 319(h) Watershed Restoration Grant for the Lower Rio Grande
The Paso del Norte Watershed Council (Council) was awarded a watershed restoration grant to develop a Watershed Based Plan to protect and improve water quality in the lower Rio Grande from Percha Dam (below Caballo Reservoir) downstream to the American Dam (near the New Mexico, Texas, and international border). Funding was provided by the U.S. Environmental Protection Agency through the New Mexico Environment Department under the authority of the Clean Water Act Section 319(h) Nonpoint Source grant program.

The two year grant funded a water quality sampling program, a bacterial source tracking study, subsequent data analyses, and a community outreach and education program. The process was a stakeholder-driven, coordinated, iterative process which resulted in a Lower Rio Grande Watershed Based Plan. This plan contains recommendations for best management practices that when implemented, would reduce pathogenic-based pollution in the river.

The Council received a previous watershed restoration grant that resulted in a Lower Rio Grande Watershed Restoration Action Strategy. Both the Watershed Restoration Action Strategy (2011) and the Watershed Based Plan (2014) are available at the list of links below.

319(h) Subsidio de Restauración para la Cuenca Baja del Río Grande
El Consejo de Cuenca Paso del Norte, ha sido galardonado con una subvención para la restauración de la cuenca, y así desarrollar un Plan para proteger y mejorar la calidad del agua en el bajo Río Grande desde la presa Percha hasta la presa American (México, Texas, y frontera internacional). La Agencia de Protección Ambiental de los Estados Unidos ha proporcionado fondos a través del Departamento de Medio Ambiente de Nuevo México bajo la autoridad de la Sección 319 (h) de la Ley de Aguas Limpias.

La subvención de dos ańos financiará un programa de muestreo de calidad de agua, un estudio de seguimiento de la fuente bacteriana, análisis posteriores y un programa de divulgación y educación comunitaria. El proceso es un proceso interactivo, coordinado y dirigido a las partes interesadas que resultará en un Plan Basado en la Cuenca Baja del Río Grande. Este plan contendrá recomendaciones sobre las mejores prácticas de manejo que, una vez implementadas, reducirían la contaminación causada por patógenos en el río.

El Consejo recibió una previa subvención para la restauración de la Cuenca el cuúl result en la Estrategia de Acción para la Restauración de la Cuenca Baja del Río Grande. Ambos documentos están disponibles en la lista de documentos abajo.

Documents/Documentos:
Informational Handouts/Folletos Informativos:
Watershed Coordinator Corner-Past Activities
Participants/Participantes:
Links/Enlances: